System Requirements
In order for Schedule Nurse Ⅲ to run properly it must be installed on a system which meets or exceeds the following requirements.
Windows: Microsoft Windows 11 64-bit
Internet connection: Required for on-line tutorials/manuals
Processor: Intel Core i3, Core i5, Core i7 or AMD equivalent.
Disk: At least 4 GB free hard disk space for installation.
RAM: 4GB (16GB recommended)
Install
Latest:
Sep.17.2022 schedule_nurse3_160A
How to install
1. Click the link above.

2. Open the downloaded file,then digitally signed Microsoft appinstaller should appear.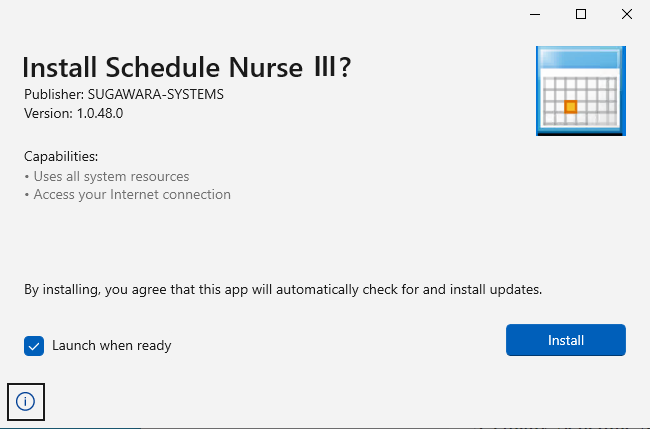 3. Click install.
Finally, Schedule Nurse Ⅲ should launch as below.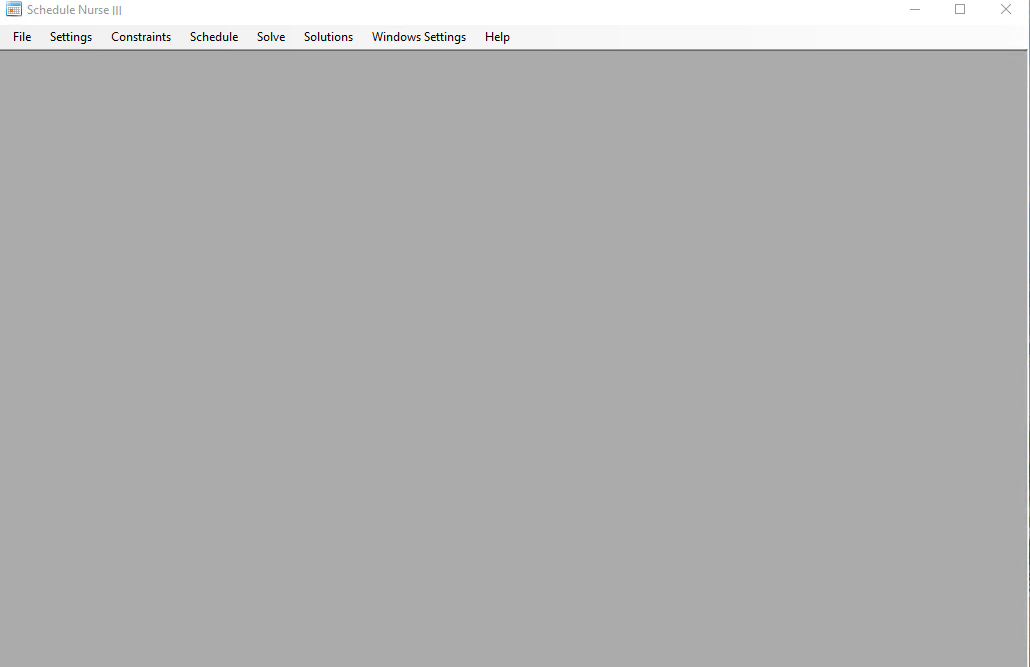 Release Histories
| Release Date | Version | Description |
| --- | --- | --- |
| Sep.17.2022 | 160A | Fixed a minor flaw in Excel output. |
| Aug.21.2022 | 159A | Add extensional function for phase/phase_objects/phase_aggregates/task aggregates. Add SeqSoftComp in python. |
| Jul.17.2022 | 158A | Add All Exports to Excel. Fixed bugs of phase mode and scheduled cardinality display. Change csv file names. Change windows titles. |
| Jul.08.2022 | 157A | Improved GUI. Add a checkbox on python_post_operation. |
| Jul.06.2022 | 156B | Improved GUI. |
| Jun.23.2022 | 155A | Change form Python3.6 to Python 10.5. Enabled print(), pdb support with GUI debugger.Build-in Pywin32 |
| | | Change CSV format for task output view output. Separated process for post operation. |
| May.22.2022 | 154A | Improved Task View. Improved Algorithm 3. |
| May.16.2022 | 152A | Change stabilization method in Algorithm 3. |
| Apr.26.2022 | 151A | Fixed typo. Improved error handling. |
| Apr.19.2022 | 150A | Improved Excel output. Implicit soft column ->default off. Hard/Soft final timeout ->default 20sec. |
| Apr.18.2022 | 149A | Fixed a bug for digitized group in python. Add min/max checks in row constraints. Change Excel drawing method. |
| Apr.13.2022 | 148A | Fixed a bug for switched shift view. Improved display of error position. Fixed a typo error. |
| Apr.10.2022 | 147A | Add feature of making tutorial projects. Improved display of error position. |
| Apr.09.2022 | 145A | Fixed Installation Problem(date-holidays.json) |
| Apr.08.2022 | 144A | Improve Installation Problem(date-holidays.json) |
| Apr.08.2022 | 143A | Improved Error Message. |
| Apr.02.2022 | 141A | Fixed a bug for switched view. RemoveWhiteSpace to Trim. |
| Feb.23.2022 | 139A | Fixed Algorithm 3 bug. Improved switching to shift/task views. |
| Feb.18.2022 | 138A | Improved Algorithm 3 |
| Feb.02.2021 | 134A | Improved Algorithm 4 |
| Jan.17.2021 | 133D | Fixed National Holiday Calendar |
| Jan.17.2021 | 133B | Fixed Japanese Holiday Calendar |
| Dec.09.2020 | 132D | Fixed install problem. |
| Dec.07.2020 | 132B | Fixed Rep2..Reg13 in DayAggregates. |
| Dec.04.2020 | 131F | Fixed 131E problem on AL4. |
| Dec.03.2020 | 131E | Fixed download link. |
| Dec.01.2020 | 131D | Remove Japanese in installation. |
| Nov.25.2020 | 131C | Addressed to Github files larger than 1MB. |
| Nov.24.2020 | 131A | Initial Engilish Version |